Digiguide for Windows
The most comprehensive and powerful TV listings tool available. Digiguide for Windows is the TV guide of choice for the avid TV viewer or media professional who requires a technically superior and extensive TV listings research tool.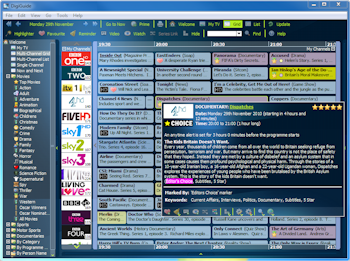 Power and speed, all in one easy-to-use TV listings tool
Digiguide for Windows is easy to set up, easy to customise, and easy to use
Quickly find your favourite celebrity, movie or missed episode with only a couple of clicks
Highlight your favourite programmes and series-link them
Lead a hectic life? Get SMS or email programme alerts to remind you
Browse at least 14 days of listings (some channels have 30 or 60 days) all from less than 5p/day
Once listings are downloaded, usage is offline so you can utilise the speed and power of your machine
Digiguide covers the TV listings data for over 650 UK channels making it the most comprehensive and thorough TV listings provider. We also continually update our channel coverage to make sure we cover the channels you need.
Systems requirements: Windows 10/8/7/Vista/2003 or XP, 32mb RAM and 8mb Disk Space.



* Free trial for 7 days, if you still like it just upgrade!