Digiguide for iPhone
Always on the move? Get TV listings wherever you are, and prepare to crash on that sofa. Digiguide for iPhone is designed for the TV viewer who needs a quick listings check from a personalised TV guide.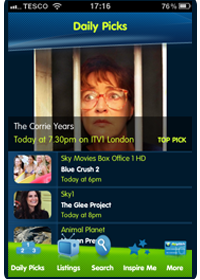 Keep in touch with what's going on TV wherever you are:
7 days listings at your fingertips totally FREE!
View listings in grid or by channel
Choose and order from our full range of over 650 channels
Tweetalong with your favourite shows using Digiguide's integrated Twitter function
Looking for inspiration? Be inspired by Digiguide for iPhone's exclusive Inspire Me function
Get personalised recommendations to reflect your tastes
Use Digiguide's dynamic search to find programmes and set reminders
Share programmes you like on Facebook
Set calendar reminders for programmes
We're devoted to constantly improving the TV viewing experience for you. Built into the app is a tool which allows you to report any issues you may experience and make suggestions on what you'd like to see next. Keep in touch!